Polypropylene Soakwells?
For over 10 years All About Soakwells have been installing trafficable polypropylene soakwells in Perth.
The polypropylene soakwell has been invaluable in being able to deliver adequete drainage on sites with limited space, restricted access or an unusual block shape.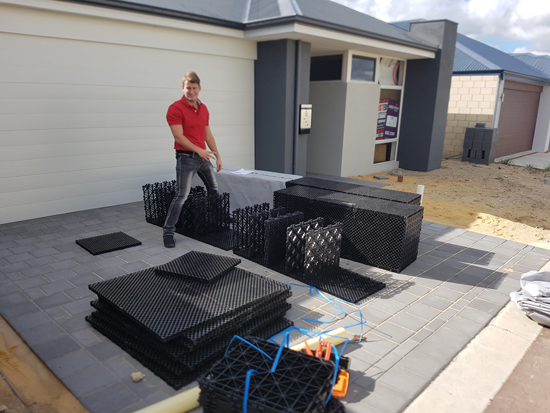 Soakwell Quotes Quantified
Our unique process includes performing a stormwater calculation based on council recommendations, and adding markup to your plan or (even a Google maps image) to illustrate our quote.
By following a strict method we are proud to say that in over a decade we have had zero issues of any kind relating to inadequete drainage or sinking paving.
Our Process
Estimate the catchment area,
Determine required volume based on council rain event formula.
What is the minimum access for machinery ?
What is the location of underground services ?
Where is the available space in relation to the roof area ?
We believe it is in everyone's interest to equip our client's with information and we will never use misleading terms (such as flow rate) or make claims without substance regarding the performance of our products.
Tip! - Always group the soakwells in as few locations as possible and connect to the proportional roof area. This area can be estimated, consistent distribution between individual downpipes cannot.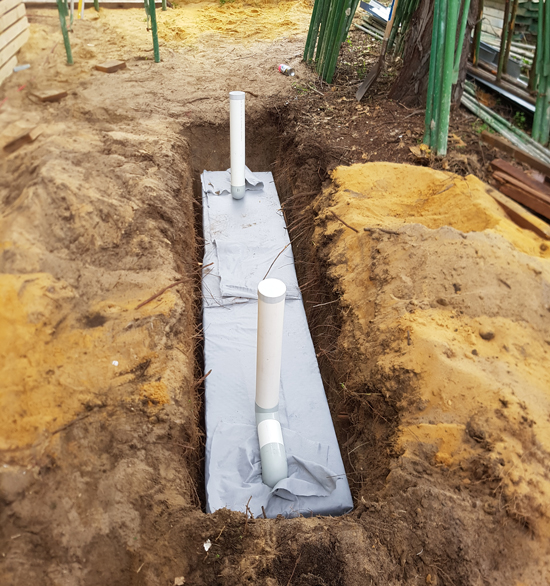 What are Polypropylene Soakwells ?
Our polypropylene soakwells are modular cube's that join together. Manufactured from recycled polypropylene, our product is unique in many ways compared to every other polypropylene soakwell available (no exaggeration! Ask us why). Joined together any amount of volume is possible while maintaining the smallest footprint.
Around 60% of the soakwells surface area is void, and if arranged in single rows to maximise the potential, polypropylene soakwells are significantly more efficient compared to concrete soakwells of the same volume.
Each soakwell is wrapped in a geofabric made from a woven synthetic fibre that is needle punched to allow the water to flow through. The geofabric is chemically inert and will not rot or degrade underground over time. Both concrete and polypropylene soakwells are wrapped in geofabric.
We install a unique 140 soakwell - its length is only 500mm vs 750mm for all other poly soakwells. This equates to one third less space required for more volume. This product has several other advantages including locking together on all sides plus a unique honeycomb type construction that is significantly stronger than any other product.
A common misconception is that 'plastic' soakwells are inferior to concrete soakwells. This is true for the small 600mm dia PVC soakwells (found at Bunnings for example), but absolutely not the case for trafficable polypropylene soakwells.